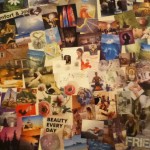 A day of exploration, creativity, and sharing about your direction in life, new endeavours, dreams, and hopes.
Meditation, sharing, and writing help to become clear on the vision of your future.
Creative expression through the creation of a dream board and / or a manifestation stick helps to anchor that vision in the here and now.
Sharing the symbolism of your work and the process of creation with others deepens the energy in you and releases it to the universe.
And throughout all of it you'll have fun while "playing" with colours, craft materials, and word-smithing.
When: Not currently scheduled.
Where: 7 Selby St., Cookstown, ON
Fee: $165.00 incl. HST and art / craft materials. A small vegetarian fingerfood snack will be available (please advise of any allergies).