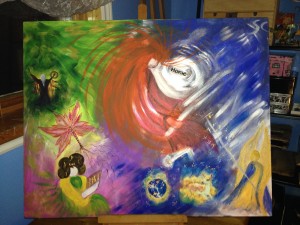 Everyday life often requires all our energy to go into organization and execution of routine events. We work, shop, cook, eat, clean, communicate (more or less successfully), and – with a little luck – find some time to socialize. But what about our inner lives? And what about the larger picture, the way we all contribute to the larger whole variably called society, life, or the universe? How can we integrate these vital aspects of human existence into our hectic and already full lives? How can we learn to listen to our own inborn wisdom and knowledge when making decisions big and small? And how can we find a new — and healthier — way to be with ourselves in body, mind, and spirit?
In this series of five evening workshops we will explore some of the basics of the integration process necessary to open ourselves again to our own knowledge and wisdom. We will develop and practice simple, fun, and creative ways to begin integrating our inner being into our everyday life and everyday life into the larger picture. Balance is possible. It can be found in the walking of the path – step by step, just as much as we can handle.
Integrating Life and Self is a series of five evening lectures which form a process and built on each other. In order to receive the full benefit of the information and exercises offered here, it is highly recommended that you participate in all five lectures. However, each event can also be taken on its own; the information and exercises will still be enriching and helpful.
Some of the topics include:
Psychological Development, Emotions & The Inner Child
Chakras and Energy
Intuition – The 6th Sense
Spirit – The 7th Sense
Integrating Life and Self – Feeling Complete!