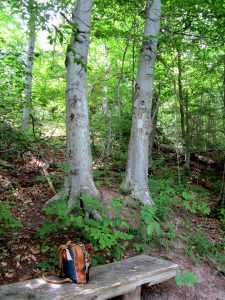 Living in the city and largely cut off from nature, many of us don't grow up anymore with an eye for the hidden messages and teachings Mother Nature has to offer. 
This day of walking, seeing, sharing, and playing offers participants an opportunity to get out into nature with like-minded people, to hone observational skills, and to listen to and interpret the messages that are ever-present in the goings-on of Mother Nature.
The day will include a hike of medium difficulty (some hills), mindfulness exercises, some creative exploration / processing art (for late fall and winter walks this is optional and at a separate location) and opportunities to rest, share, and just simply Be.
The fee includes materials for the exercises and general guidance throughout the day. Participants are asked to bring their own water and lunch, photo camera and a journal if so desired. Entrance fee to Scanlon Creek Conservation area is $10 and needs to be deposited in cash at the Guard House or by the parking lot. Please wear appropriate attire (hiking shoes etc.) and take whatever precautions you deem appropriate for a day in nature (weather gear, sun screen, etc.). In order to make this an enjoyable and calm event, the group will be very small (five people maximum).
Where: 
Scanlon Creek Conservation area near Bradford (unless otherwise noted) – far east parking lot at the bottom of the hill.
When:
Not currently scheduled
Fees:
$ 50.00 incl. HST