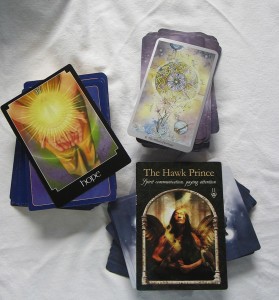 Reading the tarot and oracles are activities as old as mankind. Be it the entails of an animal, coins, stones, or sticks thrown on the ground, or images and symbolism combined in images and cards, people have always had a fascination with alternate methods to pull some wisdom and knowledge from the Divine. Over the centuries the animal entails are less frequently handy and coins, stones, and sticks seem too complicated and taunting to the everyday person in the Western world. Imagery and card decks, on the other hand, have had a triumphal victory run in our parts of the world in the past few years.
But "reading" the cards still seems to be a daunting prospect for many. Yet, it can be very easy to tease the deepest and most personal meaning out of every card, image, synchronicity, and event, simply by looking, listening to one's intuition, and using one's imagination. And enjoying the insights imagery can give us is not restricted to looking at Tarot cards, either. Everyday images can provide powerful insight if used well.
This four-hour course will bring you up-close and personal with some oracle decks, tarot cards, and other imagery that may hold deeper meaning for you. You will be wandering in the fields of the Empress, converse with a the man rowing a boat on a Soul Card, read the symbolism woven into the trees of a tarot deck, and maybe even find the hidden meaning in this magazine commercial that seems to be following you everywhere.
Bring your own decks or images, an open mind, and your sense of adventure — and allow spirit to talk to you directly.
When: not currently scheduled
Where: tbd
Fee: $50.00 incl. HST and all materials
To register, click here!