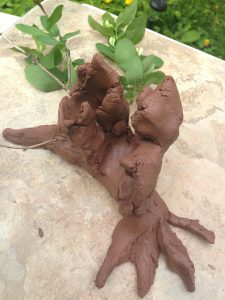 Sometimes it is difficult to express our feelings clearly with the words that we have available to us. Maybe the feelings are still unclear and confusing. Maybe they are changing and in transition. Or maybe we don't even know what they are or that they are there – we just know that something is off.
Sometimes we know very clearly what we are feeling but we don't have any way out of that feeling, no idea about how to move forward.
And sometimes we just wished we had a way to express the inner experience of the feelings we have, their true essence, the part that is uniquely ours and can't be expressed simply by saying "I am happy" or "I am sad".
Intuitive clay modelling can help with this — and it can be fun to play with clay. This five-hour workshop is designed to be a fun exploration of intuitive clay work. Come out and dig your hands into a ball of clay. Let you fingers form the clay guided by your emotion and inner guidance. Let your creation talk to you and then allow yourself to create in the clay the change you would like to create in your emotion. Observing this process may also provide information about what may help you shift your feelings; or it could just be fun and that is all there is to it.
This is an outdoor workshop that requires some physical activity (working the clay) and some periods of standing (it is possible to do this work sitting down but in my experience the energies don't flow as well). Please wear comfortable clothing that protects you appropriately from sunburn.
When: not currently scheduled
Where: 7 Selby St., Cookstown (Innisfil)
Fee: $105 incl. HST — includes all materials and a light finger food lunch